Why CMC Corporation?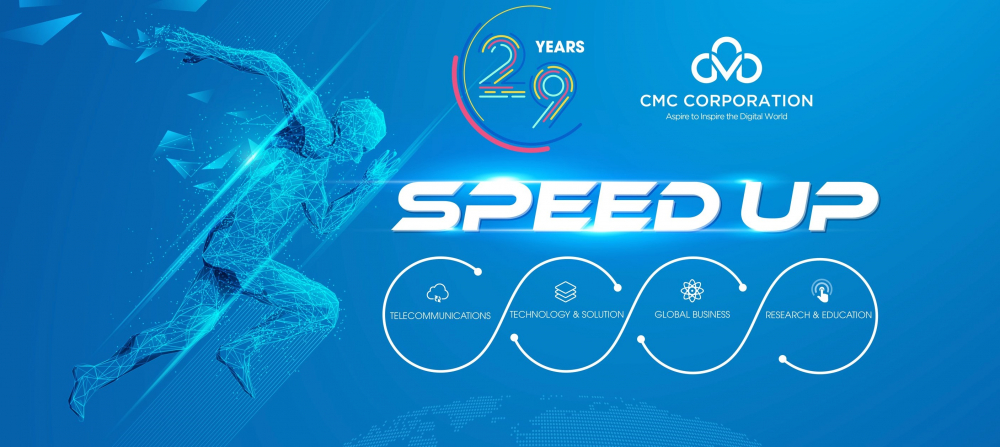 Started as ADCOM Center of Microelectronics Technology Institute, National Institute of Technology Research, with entrepreneurial talent, enthusiasm for Technology and a bit of recklessness of the two founders Mr. Ha The Minh and  Mr. Nguyen Trung Chinh, HT & NT Co., Ltd - the predecessor of CMC Group was established on May 25, 1993.
During the journey of the past 29 years, facing countless challenges, especially the financial crisis in 2007, CMC Group from a scale of a few dozen people has stood firm and continued to develop, affirming its position in the Vietnamese market. South and many countries around the world through key business activities: Technology & Solutions (Technology & Solution), International Business (Global Business), Telecommunications Services (Telecommunications) and Education (Education). with 9 members companies:
CMC Technology & Solution (CMC TS)
CMC Sai Gon Technology & Solution (CMC TSSG)
CMC Telecommunication Infrastructure Corporation (CMC Telecom)
CMC Global Company Limited (CMC Global)
CMC Ciber Joint Venture Company (CMC Ciber)
CMC Services (CMS)
CMC Cyber Security (CMC Cyber Security)
CMC Institute Of Science And Technology (CMC CIST)
A Chau Univesity (CMC Uni)
With desire and passion, CMC strives to become the world leader in IT and Telecommunication, CMC has the strategy to continue investments and development in the key ICT business sectors and expand the business to European, American, and Japan markets to become the leader with competitive capacity in the regional and international markets.
With 4Cs Core Value, every action of CMC people comes from the heart of Customer Centricity, restlessly desire and a passion for Creativity, determined in thinking and doing to reach the fastest speed, Speed of Light, and do their Commitments, to develop world-class's technology solutions, bringing outstanding values to customers, contributing to enhancing Vietnam's position in the digital era, as a powerful nation.
For more info, please visit: https://www.cmc.com.vn/

No matter the size of Customer goals, CMC deliver results. Put world-class thinking and top-tier technology at our service. It's collaboration designed to help customer's business grow.
CMC always focuses on building and developing professional IT services, i.e consulting & deployment services, providing IT total solutions and software services, Cloud Hosting, Data Center…and all convergence at the C.OPE2N ecosystem.
C.OPE2N (CMC Open Platform Ecosystem for Enterprise) is an open infrastructure platform developed by CMC Corporation which helps businesses and organizations to digitally transform successfully.
With the desire to make Vietnam a "Digital Hub" to converge, connect and share knowledge, C.OPE2N will benefit the government and enterprises, creating foundation for building "Vietnam 4.0".
The architecture of C.OPE2N consists of 5 layers and 2 modules with mutual and intimate relationship with each other. Cloud – IaaS (CMC cloud infrastructure), Platform – PaaS (platform as a service, available for enterprises), Data Layer (data management platform, AI as a Service, Smart Application).
CMC provide personal anti-virus products and consulting / security solutions / services for organizations / businesses' systems.
Tan Thuan Data Center is considered the most modern Data Center in Vietnam, located at Tan Thuan Export Processing Zone, Tan Thuan Dong Ward, District 7, Ho Chi Minh City. In April 2022, CMC will officially operate this new Data Center with a floor area of 10,000 m² and a scale of 1,200 racks.
In addition to serving business operation of CMC Corporation and partners, pillar platforms of C.OPE2N also bring along a miniature simulation environment of a modern digital world, through which, CMC desires to contribute to the construction of e-Government and digital nation. C.OPE2N can quickly create safe, efficient and effective public administration and e-government services with high quality tools, helping state agencies to lower the cost of investment in IT infrastructure and catch up with the trend of Industry 4.0 of the world
With 3000+ employees during 29 years, CMC is proud to be the home of smart, young, enthusiastic and aspiring people. More than colleagues, associates are the motivation that makes CMC constantly strive to become one of the best place to work in Vietnam.
CMC has always defined "Companies today are successful or not by the qualities and qualifications, and engagement of employees for the company". Therefore, CMC cares and aims to build a professional team with harmonious combination between experience, knowledge and company culture. They have "Creativity - C-Speed - Commitment - Customer Centricity" spirits to make a great career journey in CMC. Besides, CMC adopts comprehensive competition policies to attract talent for each position in the company. We promise to provide for employees an innovative working environment, attractive benefit and chance to help them reach their limit. The EVP messages of CMC Corporation are: Be Greater; Limitless Challenge – Limitless Income; Enjoy Work – Enjoy Life;
We fully agree philosophy: "Best HR strategy is to recruit, train and pay salaries to people so that they can create the best future strategy."
CMC offers you a very competitive salary, attractive bonus program and annual salary review. Base salary will base on individual background and offer after interview. But it should be high enough to attract good people, compare to other companies. Also enjoy 13 months of annual salary, you receive performance bonus associated with your abilities, level of personal and collective dedication, company business performance. Each year, employees are evaluated through performance work system evaluation work. The goals and objectives of the professional development of each individual was registered from the beginning of the period will be discussed with managers directly based on scientific criteria were uniform throughout the system.
As part of CMC, you have unique opportunities to fast track your career in one of the first class IT companies with WOW technology and motivated and committed talent teams. You'll typically work on projects across all industries and functions and will be fully integrated with the rest of our global firm. You'll also work with colleagues from across CMC Corporation to help our clients deliver breakthrough products, experiences, and businesses, both on technology and non-technology topics.
 More than a job, CMC knows each recruitment position is a step forward in your career. Whether you want to pursue to be a manager or focus on professional development, we acknowledge and appreciate your talents. We open up to you more promotion opportunities in CMC, and designed program to help you succeed in every single career path. In addition to self-training, mentoring, coaching or training courses at CMC Resource Development Center, employees also regularly attend training courses by the external profession training center in Vietnam or training courses abroad to reach professional expertise.
Our office culture is casual, fun and social, with an emphasis on education and innovation. The founders of the company are friends, so CMC always tries to maintain a friendly and mind-opened working environment. We have the freedom to try new ideas, experiment and are expected to be constantly learning and growing. There is also a strong emphasis on mentoring others in the group, enabling them to grow and learn.
We understand the meaning of balance so we offer insurances and premium health care package, flexible work arrangements, competitive time off packages, team bonding/company trips and innovative collaboration tools to help you achieve that balance.
"If I choose only one, the proudest thing about CMC is that all people have been working here. For nearly 30 years, we have worked together, dedicated, and contributed material and intellectual values to society and the country. Together, we are determined to devote all our efforts to develop Information Technology and Telecommunications, bring Vietnam to become the "Digital HUB" of Asia - Pacific."
Mr. Nguyen Trung Chinh Chairman | CMC Corporation
Choosing to accompany CMC for a simple reason is that I always want to be "Young". Remember the time doing engineering, deploying for customers, sitting for hours in the cold room that make me froze. However, when complaints are handled, receiving thank you notes from customers makes us very happy. From things like that, we bond with each other with enthusiasm and youthfulness."
Mr. Pham Huu Khanh – Customer Service Manager (CMC Telecom)

"What I like is that after 6 years of working at CMC, I still have teammates who stick with me during that time, in addition, there are teammates who have left CMC but continue to come back to me not only once but twice"
  Mr. Ngo Xuan Canh – Delivery Director (CMC Global Japan)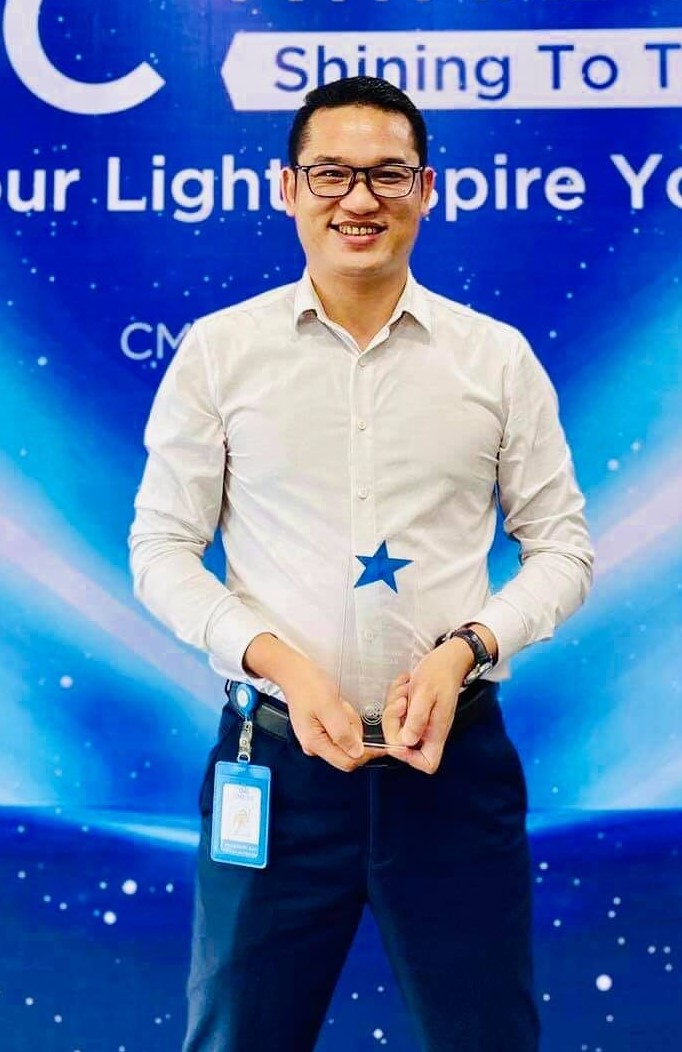 Seven years with CMC TS, through many difficult projects, seemingly insurmountable incidents, Mr. Bao summarizes in words: Interesting. Leaving the position of "rising star" at a large technology enterprise, he joined CMC TS as a sales officer with the desire to be able to develop freely in the Small and Medium Enterprises (SMB) segment.
"When I returned to CMC, it was called 'hands not to catch the enemy', didn't have a set of customers, didn't have anything. At the starting point, I'm also afraid, a lot of worries: will I be able to survive, how will I develop? But just go and come. I get acquainted slowly, meet each customer, convince them. Sale's luck is to have good products and services in hand. That CMC helped me"
In the immediate future, I look forward to working with foreign customers more, to affirm: CMC people, Vietnamese people are very good at conquering the top of technology, can compete with larger enterprises abroad. Bringing Made by CMC products and solutions to help small and medium enterprises increase their competitiveness, the dream has never stopped."
  Mr. Trinh Quoc Bao – SMB Deputy Director - CMC TS  
Inside review about CMC Corporation